Une version française de cet article est disponible ci dessous.
CheckFirst is thrilled to announce the expansion of our CrossOver project, as mentioned in our previous blog post. This innovative initiative aims to track and evaluate the impact of content recommendation algorithms on social media platforms. By monitoring and investigating the spread of misleading and harmful content on popular sites like YouTube and Twitter, CrossOver hopes to expose and address the problematic side effects of these algorithms.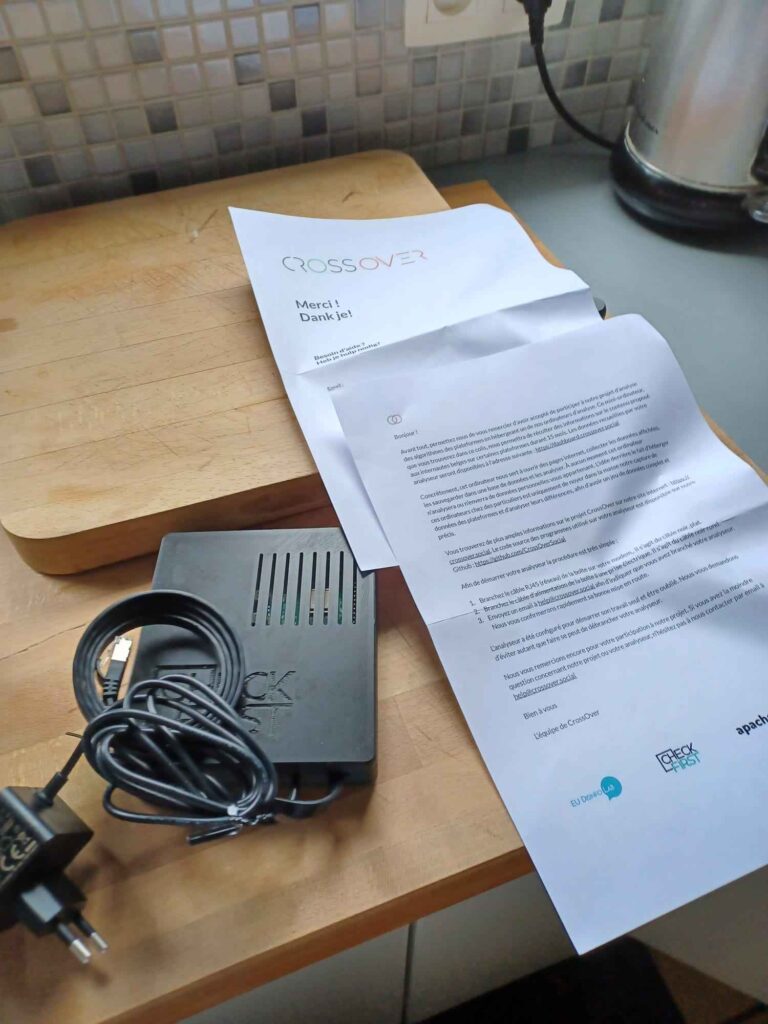 To further extend the CrossOver network, we are seeking volunteers in Canada (Québec), the Democratic Republic of Congo, France, Mali, Morocco, Senegal, and Switzerland (Romandie) to host small analysis devices. These plug-and-play devices will enable us to better understand the influence of recommendation algorithms on a global scale.
The requirements for hosting an analyzer are straightforward: you must have a 24/7 internet connection, access to your router, and an available electrical outlet near your router. Our devices are designed to be energy-efficient, consuming approximately 2€ of energy per month at the Belgian energy tariff.
By hosting an analyzer, you will become an essential part of the CrossOver network, helping us shed light on the impact of recommendation algorithms and actively contributing to the fight against misinformation. Together, we can work towards a more transparent and trustworthy digital landscape.
Join us now and make a difference by hosting an analyzer.
---
Le projet CrossOver, mené par Eu DisinfoLab, CheckFirst, Apache et Savoir*Devenir entre décembre 2021 et février 2023 s'étend à 7 pays de la Francophonie. Cette initiative vise à monitorer et évaluer l'impact des algorithmes de recommandation de contenu sur les réseaux sociaux. En analysant ces algorithmes et en enquêtant sur la diffusion de contenus trompeurs et nuisibles sur des sites tels que YouTube et Twitter, CrossOver espère exposer et traiter les effets secondaires problématiques de ces algorithmes.
Afin d'étendre le réseau CrossOver, CheckFirst recherche des volontaires au Canada (Québec), en République démocratique du Congo, en France, au Mali, au Maroc, au Sénégal et en Suisse (Romande) pour héberger de petits dispositifs d'analyse. Ces minis-ordinateurs prêts à être branchés permettrons de mieux comprendre l'influence des algorithmes de recommandation à l'échelle mondiale.
Les conditions requises pour héberger un analyseur sont simples :
vous devez disposer d'une connexion internet 24/7, non limitée en téléchargement,
d'un accès à votre routeur
et d'une prise électrique disponible à proximité de votre routeur.
Nos appareils sont conçus pour être économes en énergie, consommant environ 2€ d'énergie par mois au tarif belge.
En hébergeant un analyseur, vous deviendrez un élément essentiel du réseau CrossOver, en nous aidant à faire la lumière sur l'impact des algorithmes de recommandation et en contribuant activement à la lutte contre la désinformation. Ensemble, nous pouvons œuvrer pour un paysage numérique plus transparent et plus fiable.